England bowler Chris Woakes admits his World Cup selection is not secure following Jofra Archer's impressive introduction to international cricket.
Archer's ability to deliver a series of stylish 90mph spells has made him the hottest bowling property around just weeks after qualifying to play for England.
It already seems inevitable that the Barbados-born paceman will force his way into the final World Cup squad, leaving one member of England's successful bowling unit heartbroken.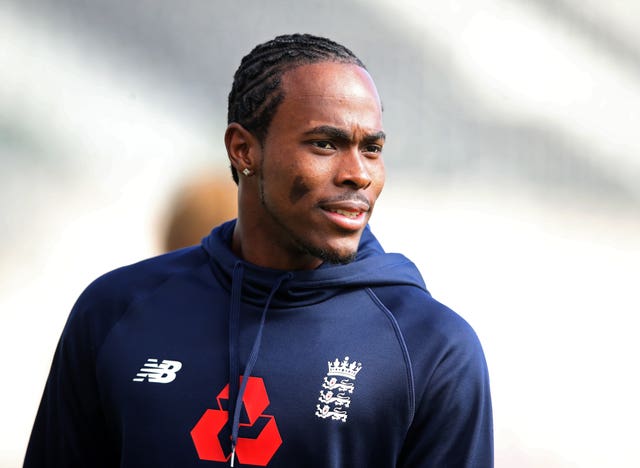 Woakes accepts every England bowler has had to raise their game since Archer's arrival, and the Warwickshire player did his cause no harm with an 11th four-wicket one-day international haul against Pakistan in Bristol on Tuesday.
"Safe is probably not the word," Woakes said when asked if that was how he felt in being selected for the World Cup squad.
"But you always feel like you need to put in performances, and I'm pleased I managed to do so.
"You hope you are safe, but I suppose until that squad's selected you're not. Hopefully I am, but we will see."
Archer has sat out the last two ODIs with Pakistan, both of which England won to take a 2-0 series lead after the first match was abandoned.
The 24-year-old will hope to press his own case for a World Cup spot in the final two games of the series at Trent Bridge and Headingley.
"The batters have obviously set the benchmark (for competition) over the last few years," said Woakes, who appears to have shaken off the knee injury which truncated his England involvement last winter.
"There's always been competition for places there, more so maybe than the bowling.
"I suppose this (Archer's arrival) has done the same for the bowlers, so yeah I think it's been a good thing.
"Someone, unfortunately, will miss out, but we don't sit in the dressing room talking about 'is it going to be me?' or 'is it going to be you?'
"I think everyone knows it's there and it's creating a good competitive edge to the team."
The only blot on the England one-day landscape right now is that they must find a new captain at Trent Bridge on Friday.
Eoin Morgan was handed a one-match ban and fined 40 per cent of his match fee for maintaining a slow over-rate at Bristol.
Morgan and England had previously been found guilty of a minor over-rate offence during the Barbados ODI against the West Indies in February, so a suspension for the skipper was a likely outcome.
Asked about England taking nearly four hours to bowl 50 overs, Woakes replied: "Is that what it was? It felt a bit longer.
"We didn't have an extra spinner and, when the ball's disappearing to the fence, sometimes you need to reassess and take that extra minute to decide what your plan is going to be and execute it.
"But we probably were a little bit slow, we could have got through a little bit quicker. It's too long, it needs to be shorter than that.
"We've obviously got some exceptional players on the sidelines, but losing Morgs (Morgan) is a huge loss for a game."