TV presenter Julia Bradbury said she rings her mother "every day" to tell her to go for a walk as she promoted the importance of being in the outdoors to the public.
The 52-year-old broadcaster has presented BBC programmes like Countryfile and Watchdog, and is also president of the Camping and Caravanning Club.
Speaking at the Caravan, Camping and Motorhome Show in Birmingham on Tuesday to PA news agency, Bradbury cited research from her club, Liverpool John Moores University and Sheffield, Hallam University, who surveyed more than 11,000 campers and non-campers.
She said, in a "nutshell", the researchers found in the Outjoyment report that people who camp "are happier", are more "connected to nature" and have "greater levels of wellbeing".
Bradbury added: "I was pleasantly surprised that this report has backed up what I have known for a long, long time. I've been making programmes in our beautiful landscapes for more than 25 years now, always talking about how important green spaces are to us all, access to green spaces."
She also said that doctors are now prescribing walking outdoors for people living with mental health issues and depression.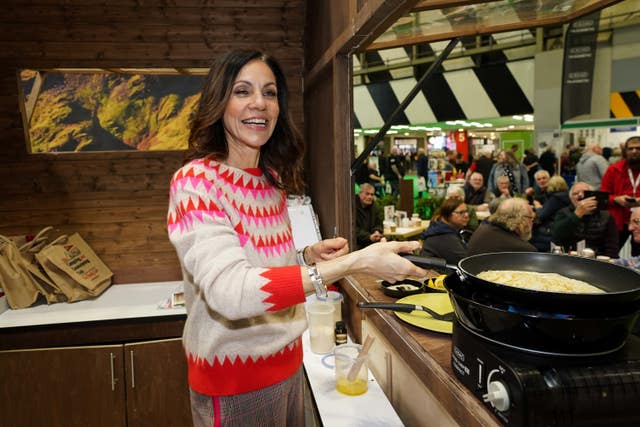 Bradbury added: "It is something that we can encourage everyone to do from children to older people.
"I phone my mum every day and go 'have you been for a walk around the village today mum? No, why not get outside, (and) have a shuffle around?'
"Doesn't matter how slowly you're going, get out there, get daylight onto your face, into your eyes, into your body and get yourself moving."
She also said that the pandemic has been "devastating" to family relationships and friendship, but the "silver lining" had been people getting into nature.
"Camping has so many benefits, spending time outside has so many benefits," Bradbury added.
"And yes, Covid I think did make us all realise that even more and hopefully, these are things that we haven't forgotten and that we can build into our everyday lives because building these things into our everyday routines are essential to human health."
She also promoted her views on the importance of the outdoors by flipping a pancake in a caravan on Pancake Tuesday.
Bradbury added she "cut sugar" out of her diet, but she was going to "indulge" and be taken to "seventh heaven" by having a "drizzle of maple syrup with a squeeze of lemon juice" as a treat.
The Caravan, Camping and Motorhome Show is on at the NEC, Birmingham, until February 26, for more see ccmshow.co.uk.